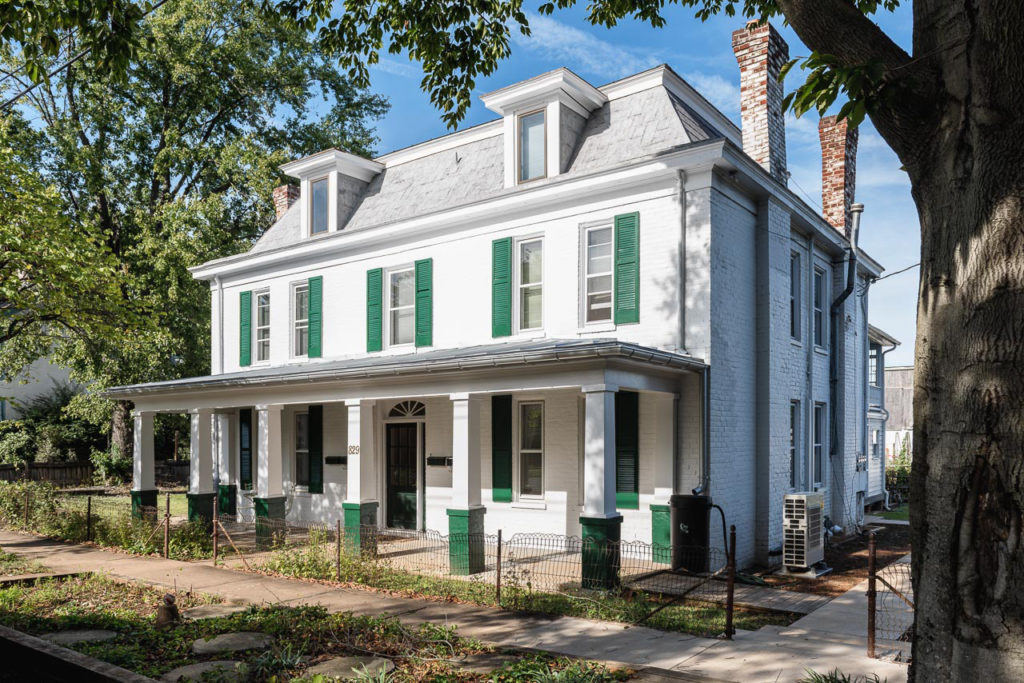 The Property
Built in 1895 by S. A. Eddins, the Farm House is said to be the second oldest home in Belmont. It was located on what was considered to be the elite street for successful businessmen and merchants in the late 1800s and early 1900s. It went through several ownerships until the Thomas family purchased it in 1961 and divided it into a rooming house and apartment building. 
We restored the original Farm House into five apartment-style vacation rentals. Located in the heart of the Belmont neighborhood within walking distance of downtown, each apartment contains a living area, kitchen, bedroom and bathroom. There is access to the common bar area, front porch, and surrounding vegetable and flower gardens. Our Fairytale Loft is an additional bedroom with private bath located on the top floor with magical scenic views. Each apartment is uniquely themed—choose the stay that best fits your style.
Accomodations
French Cottage Apartment: This first-floor apartment has exposed brick, antique heart pine floors, 9′ ceilings, large barn doors, a farm sink, and apple crate kitchen drawers blended with a soft, romantic decor.
Southern Luxury Apartment: A first-floor, rich-looking apartment in a modern style with blue, gold, and white finishes. Lots of character from the custom mirrored barn doors to the propeller style ceiling fans. Nice natural light fills the whole apartment in the morning.
The Elegant Apartmen: This second-story apartment is the perfect juxtaposition of chic comfort and classic modern style. The Elegant features a full kitchen with concrete countertops and black and white diamond-shaped floors, exposed brick, 9′ ceilings, original heart pine floors, and a chic living area.
The Retro Apartment: This colorful, quirky, retro-themed apartment is sure to brighten your visit. The cheery, fun kitchen, spacious living area, and clean, simplistic decor provide the perfect space to kick back, relax, and enjoy life. It's located on the second floor accessible by stairs.
The Garden Apartment: Feel more connected to nature in our first-floor Garden apartment. The decor—earth tones with hints of pastels, greenery, terrariums, and an abundance of natural light—was inspired by the gardens surrounding the property, which guests are free to pick from during season.
Fairytale Loft: With its white and airy decor offset by dainty metallic and wood features, our Fairytale Loft was designed to mimic a magical and romantic storybook feeling. A sweet lace hammock and cozy sitting area provide the ideal spots to soak in the surrounding views and enjoy being in the moment.